Why Fairtrade?
• Fairtrade is an alternative approach to conventional world trade. It is a partnership between producers and consumers based on reciprocal benefit and mutual respect.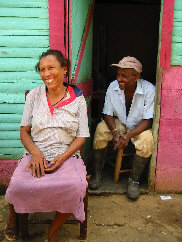 • Fairtrade ensures workers in the developing world receive a fair price for the work they do, and enables them to gain better access to markets in the richer countries.
• It aims to tackle long-term problems through sustainable development for disadvantaged and excluded producers.
• Fairtrade labelling was created in response to the request of coffee farmers in southern Mexico. In 1986 they told the development co-operation organisation Solidaridad that instead of aid they needed trade.
• Working in partnership with the farmers, the first Fairtrade label was created in the Netherlands a couple of years later. Today there are 17 Fairtrade labelling organisations including The Fairtrade Foundation in Britain.
www.fairtrade.org.uk
• These organisations run the international standard setting and monitoring body Fairtrade Labelling Organisations International (FLO).
• The Fairtrade mark is an independent certification label award that meets strict internationally recognised standards of fair trade.
What does the Fairtrade Mark Guarantee?
• Farmers get a fair and stable price for their products, despite fluctuating world market prices. Workers are guaranteed a minimum wage.
• Fairtrade pays an extra bonus called a social premium. This is to allow investment in community development such as clean water, health care and education.
• Long term contracts permit planning and development.
• Advance payments and credit facilities help to sustain farmers during difficult times of the year.
• No child or forced labour.
• A greater respect for the environment, encouraging sustainable development.
• Minimum health and safety standards including regulation on the use of pesticides
• Workers have a voice through trade unions or other worker representation.
• A closer link between shoppers and producers. Greater transparency ensures clearer product history so we know where our food has come from and the processes involved.
• Small farmers have a stronger position in world markets, despite the domination of larger and richer corporations.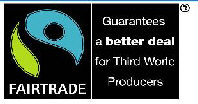 Look out for this mark for your guarantee that these standards have been met.
Fairtrade makes a real difference to peoples lives:
• By challenging conventional models of trade and offering a progressive alternative for a sustainable future.
• It empowers consumers to responsibility for the role they play when they buy products.
• We have the power to make a difference to peoples lives!
It is our collective responsibility
to protect and nurture our global family,
to support its weaker members
and preserve and tend
to the environment in which we live."

(Dalai Lama)
Back to top